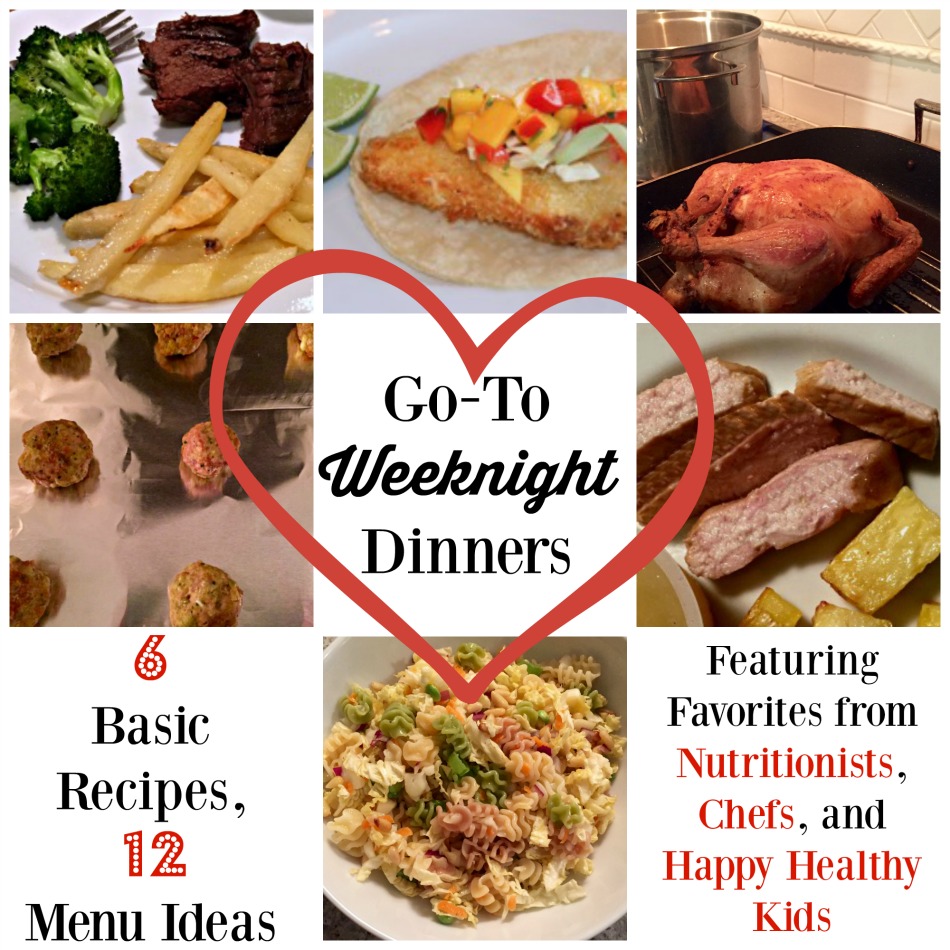 Recently, a friend asked if I'd scout around for some foolproof weekday dinner recipes and post about it. Mission accepted: Tasteless, thrown-together meals on a busy Monday are the worst. First, I polled around about typical aversions and preferences (turns out my kids aren't uniquely averse to "mushy, saucy things"). I also chatted up fellow parents, who, almost universally, place a premium on recipes that are easily adaptable to picky or adventurous tastes. Then I collected, tried and tweaked recipes, including favorites of mine and HHK advisory board members. The finalists are here: Six, rock-solid recipes that can serve as a foundation for dozens of school-night meals. I know I'm not splitting the atom here. But these just work.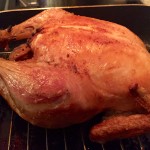 CLASSIC ROAST CHICKEN
In terms of taste and ease, no preparation beats Ina Garten's from her first book, Barefoot Contessa. I've adapted it so you aren't running to the grocery for non-essential, obscure ingredients on a Tuesday. If you have a larger family or have some dark meat lovers, like me, buy an extra pack of drumsticks or wings, salt and pepper them and cook them on a baking sheet in same oven as the chicken for the final 45 minutes of cooking.
Ingredients:
1 (5 to 6 pound) roasting chicken 
salt to taste
pepper to taste
1 lemon, halved 
1 head garlic, cut in half crosswise (OR several shakes powered garlic)
2 tablespoons (1/4 stick) butter, melted 
1 large yellow onion, thickly sliced
To Make: Preheat the oven to 425. Remove the chicken giblets and rinse and dry chicken. Liberally salt and pepper the inside of the chicken. Stuff the cavity with the lemon and garlic. Brush the outside of the chicken with the butter and sprinkle again with salt and pepper. Tie the legs together with kitchen string (if you have) and tuck the wing tips under the body of the chicken. Sprinkle onions in a roasting pan and place the chicken on top. Roast the chicken for 1 1/2 hours, or until the juices run clear when you cut between a leg and thigh. Remove the chicken and cover with aluminum foil for about 20 minutes. Slice the chicken onto a platter.
Simple menu: Chicken slices or leg/wing pieces + carrot sticks (roasted or cold) + quick drop biscuits
Adventurous variation: Shredded chicken + butternut squash chunks (oiled, salted, spread on cookie sheet, and roasted in same oven as chicken for last 25 minutes of cooking) + penne with garlic salt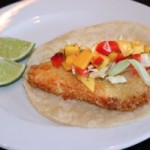 FISH TACOS
HHK advisor Dana White, R.D., developed this recipe, simplified here, for the Food Network. Feel free to sauté fish in two Tbsp. oil if you prefer that to oven-cooking. Put toppings in small bowls on the table—children love to build their own tacos.
Ingredients:
1 1/4 pound cod (OR tilapia or any other firm white fish) cut into 16 pieces
1 cup all-purpose flour for dredging
1 1/2 cups of panko breadcrumbs
2 eggs, lightly beaten
salt to taste
pepper to taste
1 tablespoon canola OR vegetable oil
8 small corn or flour tortillas, warmed in microwave or oven
Nonstick cooking spray
one lime, quartered
choice of toppings (see below)
To Make: Preheat oven to 450-degrees. Place a wire rack over a baking sheet and spray with nonstick cooking spray. Place flour, eggs and panko in a 3 shallow dishes and season with salt and pepper. Dredge fish in flour, then egg and then breadcrumbs; transfer to wire rack. Drizzle with canola oil and bake for 20-25 minutes until golden, turning once. Serve with tortillas, toppings, and limes to squeeze over everything.
Simple menu: Shredded or diced chicken + supermarket salsa + shredded cheese + thinly sliced green cabbage + white or brown rice
Adventurous variation: Fish + mango salsa (1 cup combined diced mango, red pepper, and cucumber) +thinly sliced cabbage + sour cream or plain greek yogurt + white or brown rice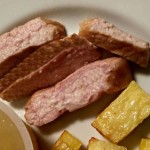 MAPLE-CANDY PORK
Of all the recipes in Jenny Rosenstrach's useful Dinner: A Playbook, this seems to be a homerun with everyone. It's also a good way to ease pork into the dinner rotation. You don't really use candy in the recipe, but you don't have to tell your kids that.
Ingredients:
4  boneless center-cut pork chops
1/3 cup maple syrup
3 Tbsp. canola oil
1/4 cup soy sauce
1/4 cup rice wine OR apple cider vinegar
1  garlic clove, halved, OR a shake or two of powdered garlic
To Make: Place the pork chops in a re-sealable plastic bag. Add the maple syrup, canola oil, soy sauce, rice wine vinegar, and garlic. Marinate anywhere from 1 hour to overnight.When ready to cook, preheat the oven to 450. Remove the chops from the marinade and pat dry with paper towels, removing any garlic slices. Place the chops on a foil-lined rimmed baking sheet and bake, flipping once halfway through, for 15 to 20 minutes, until firm but not hard.
Simple menu: Pork + buttered egg noodles + applesauce cups
Adventurous variation: Pork + white or brown rice + canned black beans, rinsed and sautéed for 5-10 minutes with finely diced onion (green, red, or yellow)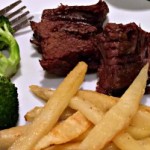 PERFECT POT ROAST
My sister Julie, a former professional chef and the best home cook I know, passed along this recipe when I first became a mom and was working full-time. Including all the ingredients here is your best bet, but I've made it without bay leaves and wine without a problem. This is a slow-cooker recipe but you can use a Dutch oven, too.
Ingredients:
1 3-pound boneless chuck roast
1 1/2 tsp. house seasoning (mix together salt, pepper and garlic powder)
1/4 c. canola OR vegetable oil
1 yellow onion, thinly sliced
2 bay leaves (can omit if you don't have)
3-4 beef bouillon cubes, mixed in 1/2 cup water OR 1/2 cup beef stock
2 garlic cloves, crushed OR 1 Tbsp. garlic paste
1 can mushroom soup or stock
1/4 cup white wine
To Make:
Sprinkle house seasoning on all sides of roast and sear each side in medium-hot pan coated with oil. Place in slow cooker, scatter onions on top. Whisk together bouillon/stock, garlic, soup and wine. Pour on top of roast and scatter bay leaves around. Cook on low for 6-8 hours or high for 3-4 hours, until roast is easy to slice and at 150-160 degrees internal temperature.
For simple tastes: Sliced pot roast + oven-blasted broccoli + homemade french fries (heat oven to 450, slice two baking potatoes into long, 1/4-inch wide strips, soak for 10 minutes in bowl of water and pat dry, toss with canola or vegetable oil and liberal shake of salt, and roast on foil -covered baking sheet for 20-25 minutes)
For more adventurous eaters: Mix shredded pot roast + sautéed veggie mix (thinly sliced pepper, onion, and carrots, tossed continuously for five minutes with oil on medium-high heat on stove) + 1/2 cup cashews + 2 cups cooked quinoa or couscous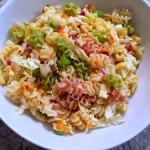 CONFETTI SALAD
Adapted from cookbook author Ricki Heller, my new favorite salad tastes even better for lunch the next day, and can be broken up into healthy components for kids whose food can't "touch."
Ingredients:
1 whole napa cabbage, washed, trimmed, and sliced thinly on the diagonal
1 cup cooked and shelled edamame or stringless, chopped sugar or snap peas
2 cups rainbow/vegetable fusilli or rotini pasta, cooked and cooled
1 carrot, grated
1/3 cup toasted pine nuts
1/3 cup olive oil
1/4 cup honey
1/4 cup champagne, apple cider or white vinegar
1 Tbsp. soy sauce
1 Tbsp. toasted sesame oil (best) or canola/vegetable oil
1 very small onion, grated on the finest holes of your grater (it should almost liquefy)
1 clove garlic, crushed or 1 Tbsp. garlic paste
To Make: Toss the vegetables, pine nuts, and pasta in a large salad bowl. In small, separate bowl, whisk together last seven ingredients and drizzle over salad.
For simple tastes: Separate pasta, edamame or peas, and diced ham, chicken or turkey on the side (separate on plate)
For more adventurous eaters: Serve confetti salad as is.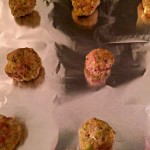 TURKEY MEATBALLS
This healthier alternative to beef, courtesy of Dana White, R.D. for the Food Network, is made super-tasty with a few tricky add-ins. Make extra and freeze for a quick protein source for any dinner.
Ingredients:
1 pound ground turkey
1 large egg, beaten
2 tsp. panko bread crumbs
2 Tbsp. traditional bread crumbs
1 Tbsp. prepared pesto
Salt and pepper to taste
Olive oil to taste
To Make: Preheat oven to 375. Line a baking sheet with parchment paper. In a large bowl, combine ground turkey, egg, both bread crumbs, and pesto. Season with 1⁄2 teaspoon each salt and pepper. Mix well and form into 16-18 1-ounce balls. Transfer to lined baking sheet, brush with olive oil and bake for 20 minutes, turning once. 
For simple tastes:  Meatballs + spaghetti + favorite jarred sauce (optional)
Adventurous variation: Meatballs + 2 cups rice of couscous + diced cucumbers + dollop of hummus and/or greek yogurt + shake of paprika, salt, pepper to taste