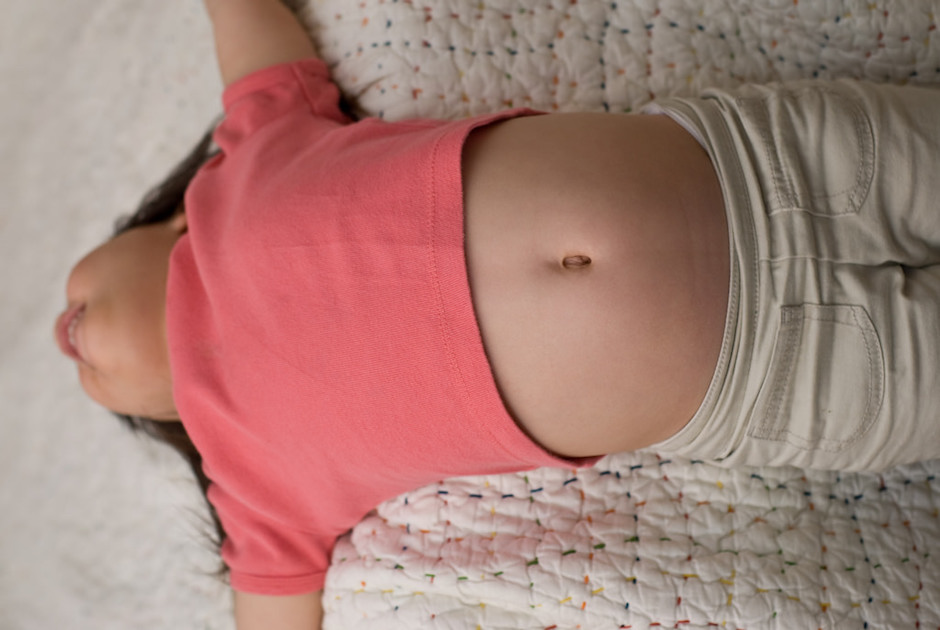 If I crunched the numbers on how often my kids have uttered certain phrases, "my belly hurts," ranks pretty darn high. So common is this refrain, and typically uneventful the outcome, that there's a cry-wolf quality to it; I typically point my child towards the pantry or bathroom and go about my day. But sometimes, a stomachache persists, and then figuring out the cause can be like falling into a rabbit hole (and equally unpleasant). And we bumbling parents aren't the only ones to feel this way. "Belly pain is a dreaded symptom around the office," says pediatrician Naline Lai, M.D., co-founder of the Two Peds in a Pod blog and an HHK adviser. "It's so complex, and there are so many different things it can be."
This is particularly true during these back-to-school days, a perfect storm of abdominal pain risk factors. There's the fresh viral soup that a closely congregated group of young children stirs up, leading to potential stomach bugs. There's the suddenly tight schedule of socializing and learning, which cause some kids to drink less water and ignore signs of having to go to the bathroom, both of which can cause constipation. And then there's stress, a not-well-understood and yet definite trigger of belly discomfort.
With the help of Dr. Lai, we came up with a list of five common belly ailments school-aged kids, and sneaky signs that can help point in the direction of a culprit. Please note that this is only a starting point of reference, and in just about every case of belly pain that doesn't pass quickly or recurs regularly, you should consult your child's doctor. Dr. Lai and her Two Peds colleague, Julie Kardos, M.D. ran a helpful post about when you should definitely talk to the pediatrician about your child's belly pain, here.
| Problem | Typical Symptoms | Keep in Mind... |
| --- | --- | --- |
| GI Bug | Can come on fast; nausea or stomach cramps followed by vomiting and/or diarrhea; sometimes a fever but not often | Little kids, especially, have trouble explaining what nausea feels like, says Dr. Lai. They may talk about a boo-boo in their belly, but other red flags are refusing food, general fussiness and clinginess, and fatigue. |
| Constipation | Usually a dull ache, often around the belly button area; reduced number or size of bowel movements; can be bloating around the belly if advanced | Constipation can be very painful, but other things can mimic the severe discomfort sometimes associated with it, like a twist in an ovary or testicle, so call a doctor if concerned. "Also, if they're uncomfortable, be sure to keep track of their bowel movements--kids certainly won't," says Dr. Lai. |
| Non-gut-related infections (urinary tract infections, pneumonia, etc.) | Fevers are often apparent; kids with UTIs often complain of belly aches low and centered around bladder, and often have pain when urinating and/or an urge to urinate frequently; pneumonia that affects the lower part of the lungs can cause stomach pain or nausea, and typically is associated with a bad cough | "Organs not associated with the gut can cause belly pain," Dr. Lai says. If bacterial, infections often require antibiotics, so if your child has these symptoms, run them by the pediatrician. |
| Food sensitivity (i.e. lactose intolerance) | Crampy abdominal pain following the consumption of certain foods; loose stools | Lactose intolerance is the most common food sensitivity we see, and can develop as kids get older, says Dr. Lai. |
| Appendicitis | Pain often starts out in belly button area and moves to the right lower abdominal area; can become very severe | Appendicitis is one of the "great masqueraders of medicine, because it's tricky to tell the difference between this and something benign," says Dr. Lai. If there's any question, go to the doctor. |
| Stress | The key to anxiety-related stomach pain is that it's very situational, Dr. Lai says. "What often happens in kids who suffer from it is that they have belly pain every morning before school, but miraculously, not on weekends." | "The abdomen is a little known stress point," says Dr. Lai. "Some people get headaches when they're troubled, and others get stomachaches." If every other cause of persistent belly pain is ruled out, docs often look to what's going on at school, at home, and with friends to see if something might be stressing a child out. |